Beaches and coves in Begur
At the heart of Costa Brava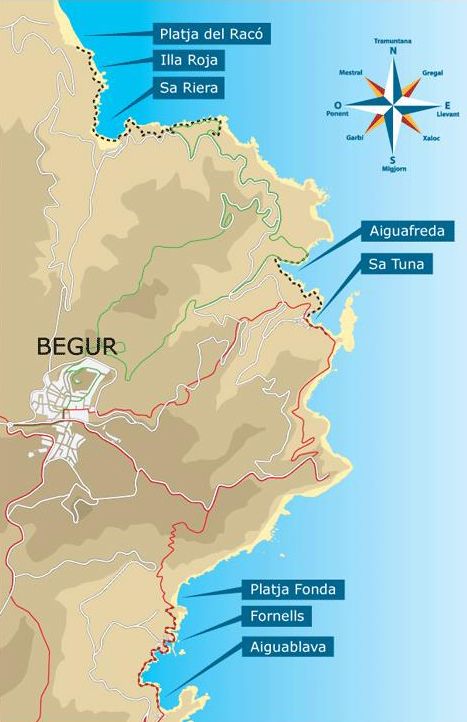 The Begur coast enjoys a shoreline of unparalleled beauty, whose cliffs and pines, the crystal waters of its hidden coves and its abrupt coastline, make this area one of the most characteristic of the Costa Brava.
Begur has eight coves and beaches, located to the north, east and south of the town, with different characters and completely different kinds of natural beauty. The first beach from the north is Platja del Racó, found near the neighboring town of Pals. It is the widest beach of Begur and offers a beautiful view of the Medes Islands.
Following the coast south-west is the Illa Roja beach, internationally renowned nudist beach. This beautiful beach, one of the most emblematic begur coasts, is characterized by a chaired by a reddish rocky islet that gives its name to the cove.
Also to the north lies the village of Sa Riera beach, one of the Begur largest and nearest town with an excellent location, then the right is the sheltered cove port from Port d'es Pi, and the left, the Cala del Rei. Sa Riera, which gets its name from a river that divides the beach into two halves, retains its traditional character and also offers various sports activities and tourism services.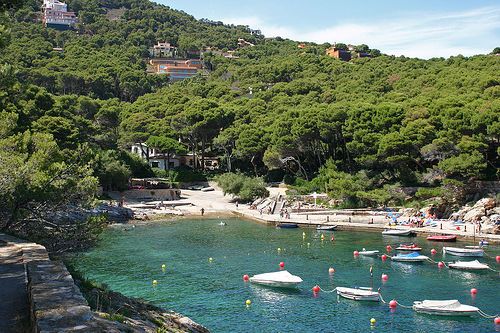 Cala Aiguafreda:
Located in the east cove of Aiguafreda small cove sheltered by the Puig Rodó hill. There are a small pier for boats and a pleasant picnic area.The next cove east also, Sa Tuna is characteristic for its sheltered location, access and tortuous. This beach offers a nice bath in clean and transparent waters, and nice walks along the coastal path. In the southern coast of Begur Platja Fonda are the unique, located at the foot of the majestic Cape of Begur. This natural hide, with thick sand and dark, has managed to remain untouched and preserved a primitive purity rarely found in other parts of the Costa Brava.
Also located in the south, the coves of Fornells, where according to tradition, this coast was baptized, a hundred years ago, with the familiar name of "Costa Brava". The coastal trail serves as a bridge to reach all the small creeks that form the core of Fornells: cove n'Estasia, Port des Orats, Malaret and the Port Esclanyà cove. These coves are shared characteristic of the sand is not fine, but you can sunbathe in peace, and water is very clear.
The last beach belonging to Begur, south of Fornells, is the welcoming Aiguablava, beach, characteristic for its crystalline waters and shallow, and its fine sand and clearly.